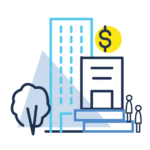 The CED Program represents community groups and non-profits that need legal support to start up, grow, stay in compliance, and achieve their goals.
Brooklyn A's CED attorneys, as in-house and special project counsel, offer community group and non-profit clients legal advice and assistance on discrete issues as well as ongoing, long-term representation that encompasses the full range of services that private sector corporations routinely receive from their corporate counsel. The transactional legal services we provide include:
Corporate formation, including incorporation, obtaining tax-exempt status and organizational structuring
Drafting and negotiating contracts
Corporate and tax advice
Negotiating commercial leases
Employment law issues
Regulatory representation and negotiations with governmental authorities
Real estate, including pre-development coordination and title and finance closings
We target our services to community groups and non-profits that serve low-income people, people of color, marginalized communities, and groups that otherwise promote racial and economic justice.
>> Learn more about eligibility and fees
Request assistance with a non-profit matter or email us at [email protected].