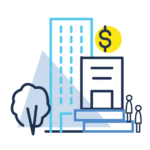 The Community & Economic Development Program uses the tools of corporate and transactional law to promote racial and economic justice across the communities of New York City.
We represent small businesses struggling through the economic impacts of gentrification and the pandemic, especially with commercial lease issues > Learn more 

We represent

community groups and non-profits

that need legal support to start up, grow, stay in compliance, and achieve their goals > Learn more

We represent

worker-owned cooperatives and solidarity economy projects

building more equitable ways of working and living. > Learn more

We represent

community activists

fighting for equity for their communities and building grassroots power in movements for racial and economic justice. > Learn more
We help all kinds of businesses and organizations across New York City. In particular, we aim to prioritize groups and entities that are based in and serving low-income and marginalized communities, including:
Movement spaces and other physical infrastructure needed by movements for racial, social and economic justice; 

Businesses and organizations being started by or serving people impacted by incarceration and the drug war;

Worker-owned cooperatives and solidarity economy projects;

Community-based mutual aid groups;

Democratically structured non-profits, like groups that identify as "worker self-directed non-profits," "horizontal non-profits," and organizations using forms of sociocracy for governance and decision-making;

Environmental justice projects and work related to food justice and land;

Non-profit affordable housing developers and community land trusts working toward social housing models, long-term or permanent affordability, and resident control; 

Organizations fighting to protect the physical safety of immigrants, LGBTQ+ communities, people of color, Jewish, Muslim, and other threatened religious communities, and other communities threatened by violence; and

Other organizations and projects that grow out of movements for racial and economic justice.
Our Goals
Advance economic justice within historically marginalized communities.
Promote equitable economic development by providing legal services to nonprofits with programs promoting these goals and providing preventive solutions to reducing poverty.
Legal Work
Brooklyn A's CED attorneys, as in-house and special project counsel, offer nonprofit clients ongoing, long-term representation that encompasses the full range of services that private sector corporations routinely receive from their corporate counsel. The transactional legal services we provide include:
Real estate, including pre-development coordination and title and finance closings

The drafting and negotiation of contracts

Regulatory representation and negotiations with governmental authorities

Advice and council with regard to public and private financing

Corporate and tax advice

Environmentally sustainable development

Employee relations

Corporate formation, including incorporation, obtaining tax-exempt status and organizational structuring