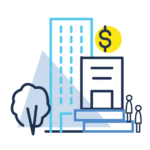 Community & Economic Development Program provides transactional legal counsel to nonprofits and small businesses that sustain and empower low-income communities. We assist these organizations with an array of development and operational projects to sustain affordable housing developments, community health centers, and schools. We help small businesses on commercial lease matters.

The groups we represent seek to create, develop, and operate new and rehabilitated affordable housing; provide high quality health care services; develop community-wide sustainable development strategies; provide support and educational services to youth from infancy through college; and generally work for social and economic justice in local low-income communities. Our partnerships create minority and community-owned businesses and jobs.
Small Business Support Project (SBSP) provides free legal services to underserved small business owners who cannot otherwise afford counsel. > Learn More
To request assistance through the Commercial Lease Assistance program, click button below. 
If you have questions or need assistance, please contact [email protected]
Our Goals
Advance economic justice within historically marginalized communities.
Promote equitable economic development by providing legal services to nonprofits with programs promoting these goals and providing preventive solutions to reducing poverty.
Legal Work
Brooklyn A's CED attorneys, as in-house and special project counsel, offer nonprofit clients ongoing, long-term representation that encompasses the full range of services that private sector corporations routinely receive from their corporate counsel. The transactional legal services we provide include:
Real estate, including pre-development coordination and title and finance closings

The drafting and negotiation of contracts

Regulatory representation and negotiations with governmental authorities

Advice and council with regard to public and private financing

Corporate and tax advice

Environmentally sustainable development

Employee relations

Corporate formation, including incorporation, obtaining tax-exempt status and organizational structuring