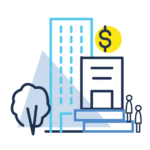 The Community & Economic Development Program uses the tools of corporate and transactional law to promote racial and economic justice across the communities of New York City.
• Small Businesses: We represent small businesses struggling through the economic impacts of gentrification and the pandemic, especially with commercial lease issues
• Community Non-Profits: We represent community groups and non-profits that need legal support to start up, grow, stay in compliance, and achieve their goals
• Co-Ops & Solidarity Economy: We represent worker-owned cooperatives and solidarity economy projects building more equitable ways of working and living.
• Movement Groups: We represent community activists fighting for equity for their communities and building grassroots power in movements for racial and economic justice.
Our Goals
Support movement spaces and other physical infrastructure needed by movements for racial, social, and economic justice
Help businesses and organizations being started by or serving people impacted by incarceration and the drug war
Represent worker-owned cooperatives and solidarity economy projects
Support mutual aid groups and democratically structured non-profits
Help non-profit affordable housing developers and community land trusts working toward social housing and permanent affordability
Support organizations fighting to protect the physical safety of communities threatened by violence
Legal Work
We help all kinds of businesses and organizations across New York City with their non-litigation legal needs.
While many clients come to us for a one-time specific need, we also offer long-term, full service corporate and transactional representation to community-based projects similar to what private sector corporations receive from their corporate counsel.