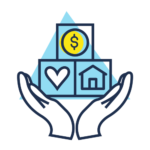 Consumer & Economic Advocacy Program uses civil legal remedies, as well as non-legal advocacy to protect economic equity of low-and moderate-income families.
We prevent foreclosures and defend against predatory lending. We resolve tax issues with the IRS for low-income taxpayers. We strive to ensure that vulnerable groups have strong safeguards in place to help them build and maintain assets throughout their financial lives.
Our Goals
Reduce the loss of homes to foreclosures and unfair practices, and end predatory mortgage lending.

Ensure protections are in place to prevent abuses by banks and finance companies and stop payday lenders and tax scams.

Litigate cases that increase protections and recover damages for consumers with low incomes.
Legal Advocacy
Financial Consumer Protections

Fair Housing

Homeowners' Rights

Taxpayers' Rights
Legal Work
Bankruptcy/debt relief

Home foreclosure support, especially for those in danger of homelessness

Increasing awareness about unfair sales practices

Loan modifications

Low-income taxpayer assistance

Protection from predatory loan practices

Brooklyn A's Low Income Taxpayer Clinic exists to represent and provide education and outreach to low-income taxpayers, including those who speak English as a second language (ESL). > Learn More
Pro Bono Partnerships
Cuti & Wang LLP

New York State Foreclosure Defense Bar