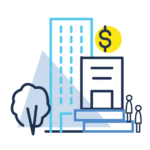 The CED Program supports small businesses, especially those struggling with the effects of gentrification and the economic impacts of the pandemic. 
We dedicate a significant part of our services to small businesses with commercial lease issues, including:
Negotiating a new or renewal lease;

Reviewing the terms of a current lease;

Negotiating a lease termination or assignment; 

Negotiating a sublet agreement; 

Enforcing the terms of a lease, sublease, or an oral agreement with a landlord; and

Combatting landlord harassment and breaches of their obligations under their commercial lease.
We do not represent small businesses in eviction or other litigation matters related to their commercial leases.
Request assistance with a commercial lease matter or email us at [email protected].
Request assistance on a small business issue unrelated to commercial leases by emailing us at [email protected].