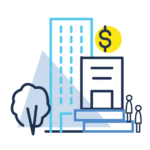 We aim to do our legal work for community groups and non-profits pro bono whenever possible, but we do charge a sliding-scale administrative fee to partially cover some of our costs for applicants.
These non-refundable fees help defray the costs of our intake and screening process; fees are submitted only after Brooklyn A determines it is appropriate for the applying organization to go through a complete intake process. 
New Clients: Administrative Fee
No fee for groups with annual budgets under $50,000

Organizational budget $50,000-$100,000: $350

Organizational budget $100,000 – $250,000: $450

Organizational budget $250,000 and above: $550
We refer many community groups and non-profits to outside pro bono counsel with whom we have partnered, but we remain in communication with those attorneys to ensure that the project is moving forward appropriately. In cases where we cannot identify pro bono counsel after a diligent search, our in-house legal team may be able to represent you. In that case, we would typically charge sliding scale fees intended to be affordable to organizations of any size. 
We also have a very limited capacity to provide pro bono services in-house on request. In making these determinations, we look for clients that cannot afford legal services who are especially well-aligned with our priorities. 
Request assistance with a non-profit matter or email us at [email protected].
Returning Clients: Annual Compliance Service
We offer returning non-profit clients a limited-scope compliance service on a sliding scale, depending on your needs and the size of your organization. This could mean anything from simply assisting you with filing your annual IRS 990-N and NYS CHAR500 filing to doing a complete analysis of your organizational compliance.
Request assistance by emailing us at [email protected].