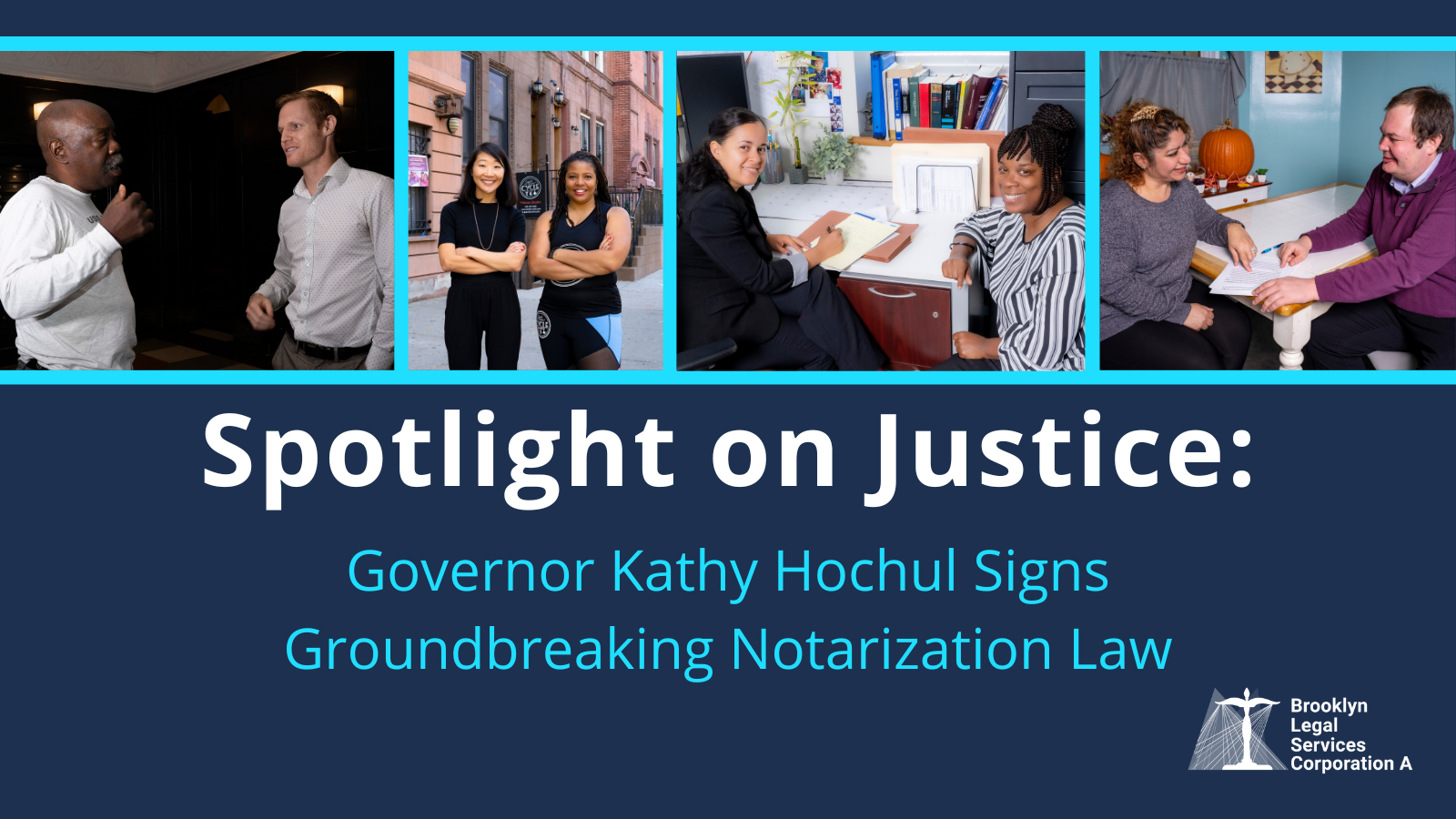 Governor Kathy Hochul Signs Groundbreaking Notarization Bill
Brooklyn Legal Services Corporation A joins the New York Legal Services Coalition (NYLSC) in applauding Governor Kathy Hochul's signing of legislation – S.5162 (Hoylman-Sigal) / A.5772 (Lavine). This bill ends the requirement for New Yorkers to notarize all sworn statements in civil proceedings, removing an unnecessary barrier that disproportionately impacted low-income and unrepresented New Yorkers. We want to thank the Governor for signing the bill and our legal service provider partners for supporting it.
"Brooklyn A commends Governor Kathy Hochul and the New York Legal Services Coalition for championing and enacting legislation that dismantles significant barriers in civil cases, facilitating greater access to justice for all New Yorkers. This transformative bill, by removing the onerous notarization requirement, marks a momentous advancement towards a more equitable legal system, especially benefiting low-income individuals in their pursuit of justice," said Ndukwe Agwu, Chief Legal Officer of Brooklyn Legal Services Corporation A.
As we previously wrote upon the bill's passage through the state legislature, the requirement for notarization has long imposed an onerous burden on those seeking justice in civil proceedings. Dropping this requirement would represent a pivotal amendment to Civil Practice Law and Rule (CPLR) 2106, revolutionizing the way litigants in civil cases provide sworn statements. By removing mandatory notarization, this legislation aims to empower individuals to attest to the truth under penalty of perjury without cumbersome formalities.
The effectiveness of notarization ensuring the veracity of statements remains unsubstantiated. Unsworn and unnotarized declarations are already accepted under Federal Law and in over 20 states, as long as they bear a solemn affirmation of truthfulness under penalty of perjury.
The COVID-19 pandemic has further exposed the glaring flaws of the notarization process. Particularly for unrepresented litigants, this antiquated requirement entails costly notarization fees, relentless searches for notaries, time away from work, and arduous journeys to meet existing notary exacting standards.
Undeniably, the burden of notarization disproportionately weighs on low-income and unrepresented individuals, compounding existing inequalities and exacerbating the digital divide and challenges to equitable access to justice. The mirage of remote notarization as a solution only serves those privileged with internet access, necessary technology, and digital literacy.
For countless low-income litigants, lacking access to printers, scanners, fax machines, computers, and other similar electronic devices poses insurmountable obstacles to electronic document submission. Moreover, navigating the labyrinthine realm of the internet and mastering the skills required for remote notarization remains a distant dream for many, especially seniors.
Brooklyn A celebrates the passage of bill S5162/A5772, recognizing the pressing need to dismantle these insidious barriers and champion equal access to justice for all New Yorkers, regardless of their financial status or background. This visionary legislation epitomizes our unwavering commitment to fostering fairness, equity, and inclusivity within the legal system.