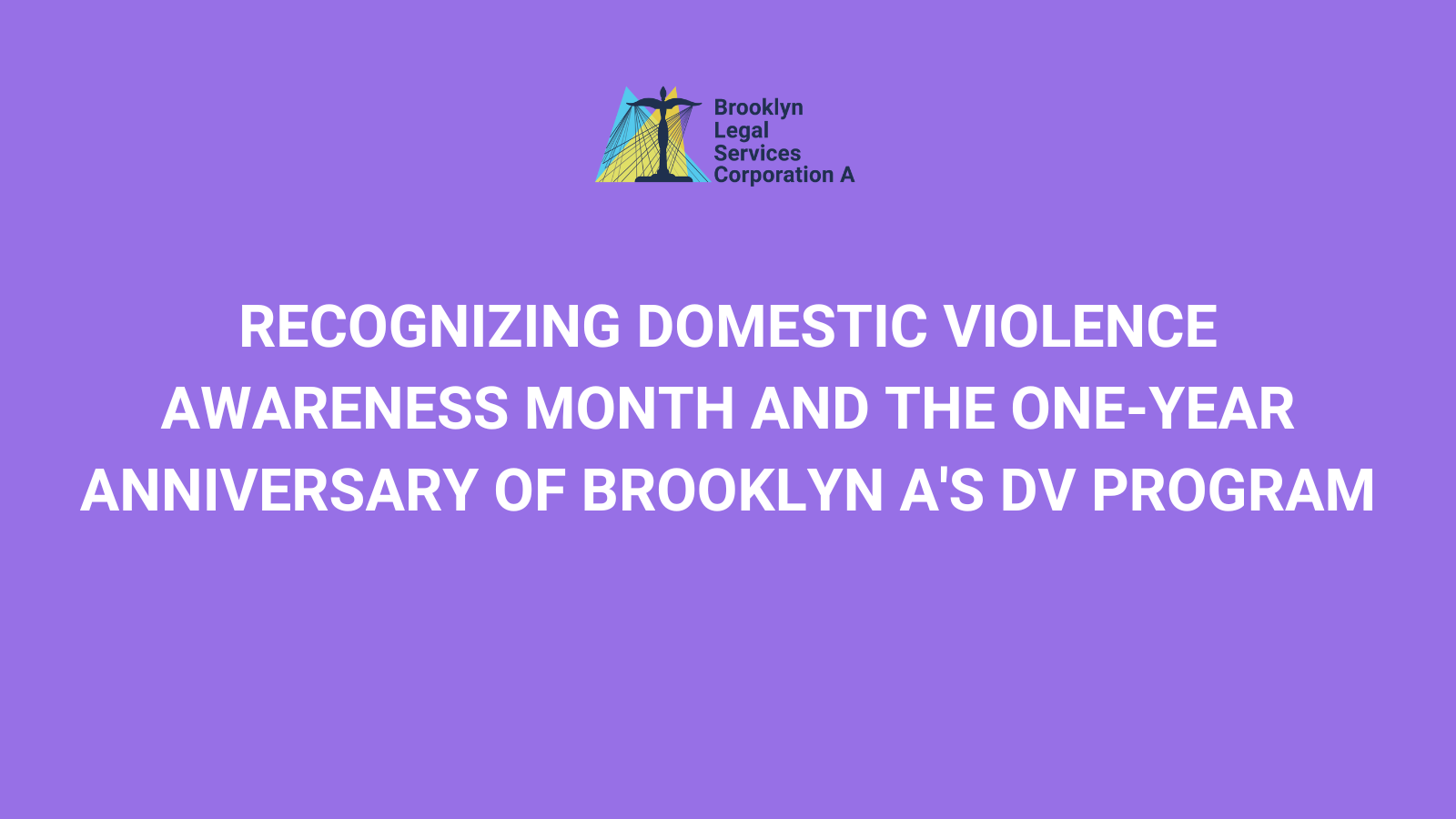 Domestic Violence Awareness Month and Our DV Program's Anniversary
As Domestic Violence Awareness Month concludes, Brooklyn A extends its appreciation to the courageous survivors and dedicated service providers across New York City who continually strive for justice throughout the year. This month also marks the one-year anniversary of Brooklyn A's Domestic Violence program which has rapidly grown, thanks to the unwavering commitment of our team.
Brooklyn A launched the Domestic Violence program in response to the escalating demand for services for those suffering from the devastating effects of intimate partner violence stemming from a significant increase in the number of reported victims across the city. Recent reports indicate an 8.5% rise in domestic violence victims in New York City and an 8.7% increase in the rest of New York state in 2022 compared to 2019 (see Domestic Violence: Recent Trends in New York).
Since its inception in 2022, the Brooklyn A's Domestic Violence team has assisted numerous survivors with a diverse range of needs. Whether it's the pressing need for orders of protection, the complexities of child and spousal support arrangements, or navigating the delicate terrain of custody and visitation, Brooklyn A is there, providing legal advice and representation. But that's not all; the DV team's support extends far beyond the courtroom. Victims are not alone on the path to justice, with Brooklyn A offering options counseling to help them make informed choices, safety planning to prevent further abuse, and comprehensive case management to ensure no aspect is overlooked.
Understanding the profound impact that domestic violence has on every aspect of a person's life, all of Brooklyn A's programs stand ready to assist survivors. In our previous blog post (check out Brooklyn A's Blog Post), we explored the unique housing challenges that survivors often confront and the legal rights they possess. Sadly, domestic violence not only serves as a pervasive threat but is also a leading cause of homelessness for families entering the NYC shelter system. It's disheartening to note that survivors often encounter housing discrimination, ranging from being denied housing admission to facing the looming threat of eviction, all as a result of acts of violence committed against them. What's particularly troubling is that this discrimination persists despite the presence of clear city, state, and federal laws that prohibit such practices. In the fight against these injustices, Brooklyn A's Preserving Affordable Housing Program provides invaluable legal counsel and representation to survivors grappling with landlord-tenant cases in housing court.
One powerful testament to the impact of our Domestic Violence team's work comes from a recent client, whom we'll call "K." Her story is one of harrowing survival. After relocating to New York from South Asia with her husband, she found herself trapped in an abusive relationship, living in constant fear within her own home. But as the years passed, a glimmer of hope entered her life when she became pregnant with her precious daughter.
Determined to break free from the shackles of fear, she mustered the courage to make a life-altering call to the police. In a daring escape, she fled with her daughter, seeking refuge from her abuser. "K" turned to Brooklyn A for help, and it was here that she found the unwavering support of our dedicated Domestic Violence team. With their guidance, she made a smooth transition to a domestic violence shelter and secured a crucial order of protection against her abuser.
Today, "K" and her daughter reside in a safe and comforting environment, fortified by the security provided by the order of protection. Her story is one of incredible strength and perseverance, echoing the resilience of all our clients. Despite the immense challenges they face, these survivors will not be defeated. They continue to fight for their children, ensuring the safety and well-being of them both.
"K's" story serves as a beacon of hope, illuminating the transformative impact of dedicated organizations like Brooklyn A in the lives of survivors. Domestic violence remains a pressing concern that demands our collective commitment. If you or someone you know is dealing with a domestic violence issue in NYC or NY State, remember that you are not alone, and help is always within reach. Reach out to the New York State Hotline for Sexual Assault and Domestic Violence at 1-800-942-6906 or Safe Horizon's Domestic Violence hotline at (800)-621-4673 for immediate emergency DV shelter placement and essential resources. Additionally, you can contact Brooklyn A directly at (718) 487-2300 or via email at [email protected]. Together, we can make a difference, providing safety, support, and a path to healing for survivors in need.