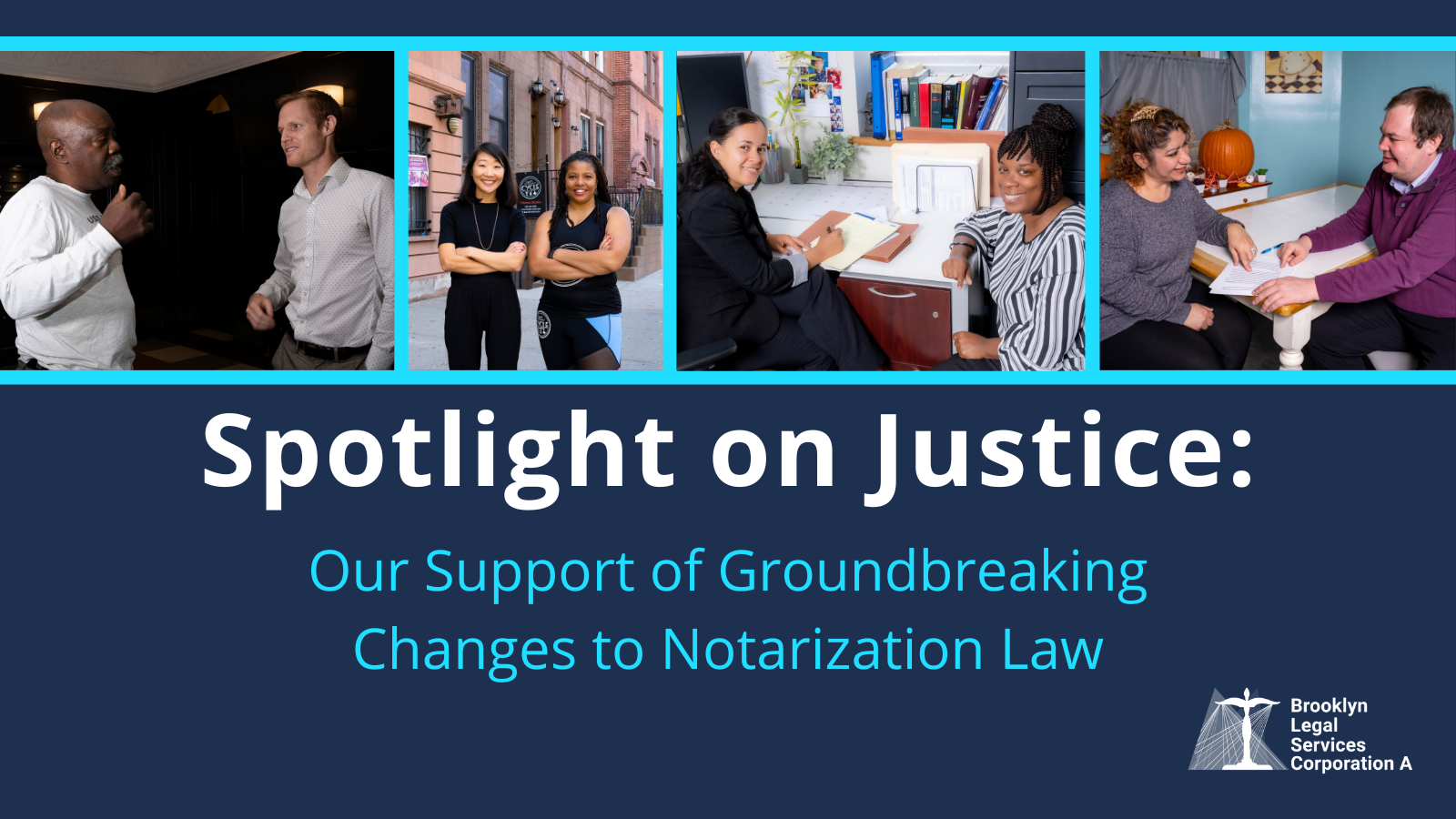 Our Support of Groundbreaking Changes to Notarization Law
By Ndukwe Agwu, Chief Legal Officer
In a bold move towards leveling the legal playing field, the New York State Legislature at the end of last month passed bill S5162/A5772, which would eliminate notarization requirements in civil cases. Brooklyn A stands firmly behind this groundbreaking legislation, which seeks to dismantle significant barriers hindering access to justice for low-income individuals, particularly in housing, civil, and family court matters and we are eager to see it signed into law.
The proposed bill would end the requirement for New Yorkers to notarize all sworn statements in civil cases. Right now, affidavits submitted by clients require them to be notarized before they can be submitted. Dropping this requirement would represent a pivotal amendment to Civil Practice Law and Rule (CPLR) 2106, revolutionizing the way litigants in civil cases provide sworn statements. By liberating them from the shackles of mandatory notarization, this legislation aims to empower individuals to attest to the truth under penalty of perjury without cumbersome formalities. The resounding support for this transformative measure from New York's esteemed New York State Bar Association mirrors the urgent need for change in the legal landscape.
The requirement for notarization has long imposed an onerous burden on those seeking justice in civil proceedings. Yet, its effectiveness in ensuring the veracity of statements remains unsubstantiated. Unsworn and unnotarized declarations are already accepted under Federal Law and in over 20 states, as long as they bear a solemn affirmation of truthfulness under penalty of perjury.
The COVID-19 pandemic has further exposed the glaring flaws of the notarization process. Particularly for unrepresented litigants, this antiquated requirement entails costly notarization fees, relentless searches for notaries, time away from work, and arduous journeys to meet their notary's exacting standards.
Undeniably, the burden of notarization disproportionately weighs on low-income and unrepresented individuals, compounding existing inequalities and exacerbating the digital divide. The mirage of remote notarization as a solution only serves those privileged with internet access, necessary technology, and digital literacy.
For countless low-income litigants, lacking access to printers, scanners, fax machines, computers, and other similar electronic devices poses insurmountable obstacles to electronic document submission. Moreover, navigating the labyrinthine realm of the internet and mastering the skills required for remote notarization remains a distant dream for many, especially seniors.
Brooklyn A strongly supports bill S5162/A5772, recognizing the pressing need to dismantle these insidious barriers and champion equal access to justice for all New Yorkers, regardless of their financial status or background. This visionary legislation epitomizes our unwavering commitment to fostering fairness, equity, and inclusivity within the legal system.
About Brooklyn A:
Brooklyn Legal Services Corporation A is a pioneering nonprofit legal services organization dedicated to providing top-tier legal representation, tireless advocacy, and comprehensive community education to empower low-income individuals and families in Brooklyn and throughout New York City. Our formidable team of seasoned advocates work tirelessly to dismantle legal barriers, safeguard justice, and empower our clients to navigate complex legal challenges with confidence.