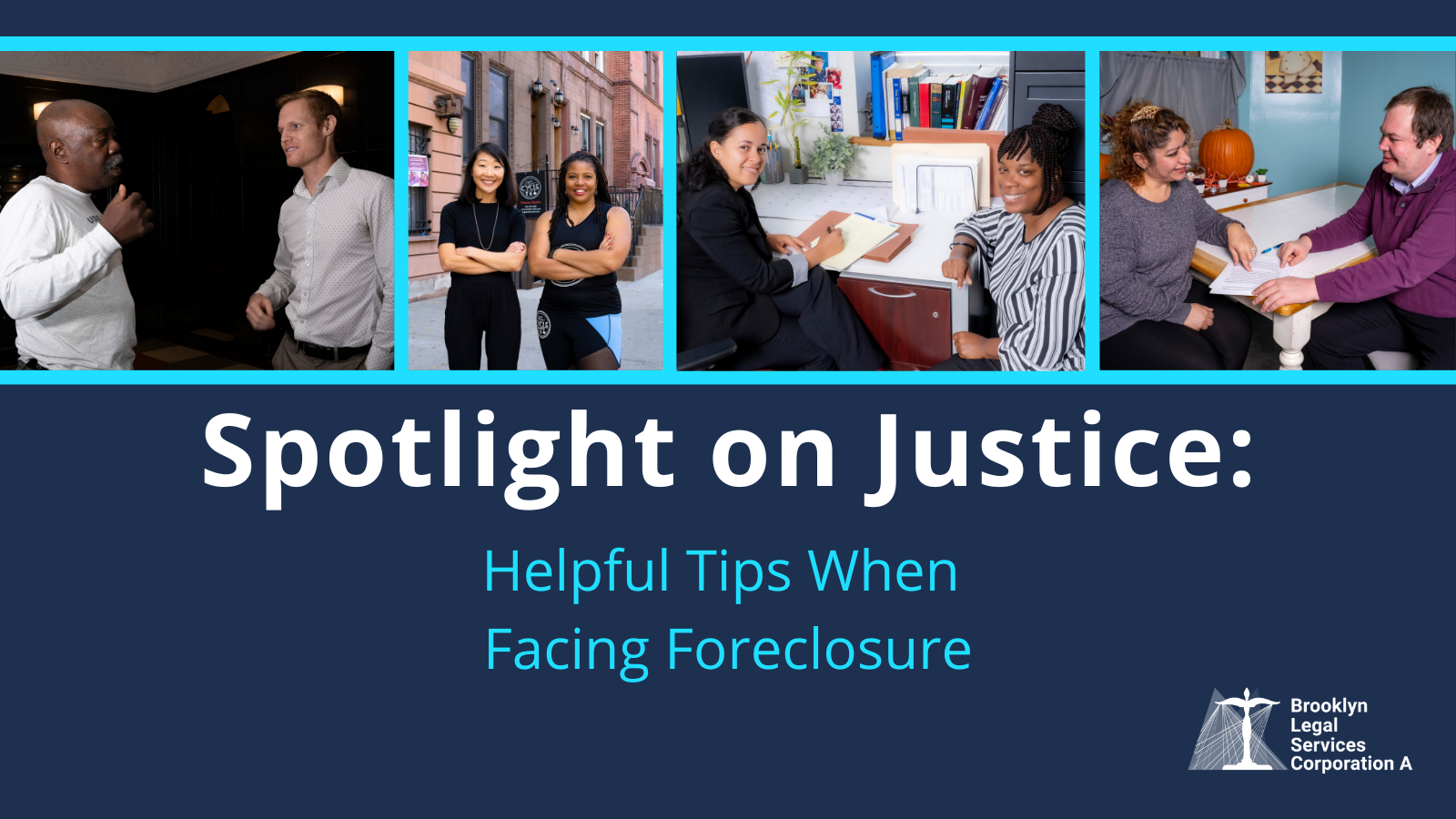 Helpful Tips When Facing Foreclosure
By Quina Li
According to the U.S. Foreclosure Market Report from ATTOM, in May of this year New York City had reached the greatest number of foreclosures among major metropolitan areas with 1,452 foreclosures commenced. In July, New York was second among large cities in completed foreclosures with 148. Among all boroughs, while Brooklyn was the most active for pre-foreclosures in the city, claiming 46% of citywide cases in Q1 of 2023, Queen's foreclosures in Q2 2023 surpassed Brooklyn and Staten Island (the next two most-active markets) put together. As many homeowners continue to recover from the impact of COVID-19 and struggle to pay their mortgages, increasing numbers of foreclosure cases also lead to a huge demand for foreclosure legal assistance. Our Consumer & Economic Advocacy Program (CEA) of Brooklyn A works on foreclosure prevention, including personal bankruptcy, and preventing or addressing predatory lending for clients across the city. In the past year, our Brooklyn A team prevented 90 foreclosures throughout the five boroughs and saved more than $33.7 million in home equity for low- and moderate-income families across New York. Here are some useful tips for homeowners that can help prevent a foreclosure:
Loss Mitigation Options
When you are behind on your home mortgage, you may want to discuss the solutions with the lender to avoid losing your home—this is called "loss mitigation." The earlier you talk with the lender the better, since negotiating a workable deal becomes more and more difficult as time passes and arrears add up. Taking active measures might prevent the foreclosure action, but even if the property enters into an auction eventually, the foreclosure process in New York currently takes about 445 days (15 months) from the date of the first missed payment to the sale of the home.
The bank or mortgage servicer is required to help you understand your loss mitigation options. The bank will provide a loss mitigation application form. You may need to fill in your basic information, mortgage details, cause for default, and latest financial situation with supporting documents. Paystubs or any kind of income documentation are generally required. If you have submitted a completed loss mitigation application, your bank or mortgage servicer must finish its review of your application before proceeding with the foreclosure suit. This means that, if the bank or mortgage servicer is in the process of reviewing your application, they cannot start a foreclosure action against you.
You may be eligible to permanently modify your mortgage (for example, changing the term of the loan, the monthly payment amount, etc.). If you do not qualify for a permanent modification and have only missed a few payments, you may qualify for a temporary solution, like a short period of loan forbearance—meaning you won't have to make mortgage payments or pay less each month for a limited time.
Pay attention to the papers!
According to New York State law (specifically Real Property Actions and Proceedings Law § 1303), you have a right to be notified by the bank with a more specific and helpful notice regarding your rights and obligations during the foreclosure process. Specifically, the notice must indicate that you have the right to remain in your home until a foreclosure sale occurs and clarify that you still have the obligation to maintain your property and pay applicable taxes until such time.
According to RPAPL § 1304, you have a right to be notified at least 90 days before a foreclosure suit is filed informing you that you are in default and at risk of foreclosure. These notices are legally required to come in the mail, not by phone or electronically. If you have been struggling to pay your mortgage, look for mail sent by your loan provider.
Also, you have the right to receive a copy of the legal papers in the foreclosure lawsuit when it begins. This is known as the "service" of the Summons and Complaint. You must respond to the Summons and Complaint with an "Answer" within 20 days after you have been personally served (papers handed to you directly), and within 30 days if served to you by other means (such as by mail).
Don't overlook Answers
As mentioned above, you must respond to Summons and Complaint with an "Answer" within a limited time. The Answer is your opportunity to state your defenses. To prepare an Answer, New York court recommends a free Foreclosure Answer Program if you are unable to seek advice or representation from an attorney before filing any legal papers—visit the New York State Attorney General's Homeowner Protection Program (HOPP) website or call 1-855-HOME-456 for resources.
It is very important to send in your Answer on time. If you don't submit your Answer, the plaintiff/lender can get a default judgment against you and you can lose your home. Additionally, failing to answer in a timely manner may cause you to give up or waive essential defenses to your case. This can happen even if you attend the Settlement Conference. If you don't Answer, the Court will not consider any defenses to the foreclosure that you have. You also may not get any future notices from the Court about what is going on in your case. Your house may be sold without you knowing it. If you don't want to defend the foreclosure but want to get notices of what is happening, you can file a Notice of Appearance form with the Court.
If your time to Answer has run out, you can ask the plaintiff/lender to agree to let you file a late Answer. If the plaintiff says no, you can ask the Court by making a Motion or an Order to Show Cause.
Represent yourself in the Court
You must appear at all scheduled court appearances. If you are not represented by counsel and you fail to appear, you risk losing the case and your home. You may have a right to request court permission to proceed pro se (representing yourself) without paying court costs like filing fees.
The Court may mail you a date, time, and place for a Settlement Conference. A Settlement Conference is a meeting between you, someone from the Court (a Judge, Court Attorney, or Court Referee), and the plaintiff bank/lender. The meeting is to talk about your case and to see if your foreclosure can be resolved. For example, you might see if the terms of the loan can be changed so you can afford to pay each month.
In the Settlement Conference, you must bring copies of your financial papers, like pay stubs, benefits information, list of monthly expenses, mortgage statement, proof of any rental income, property tax statements, income tax returns, proposals to change your loan terms, and any information about attempts to work out a settlement before. Both parties must negotiate in "good faith."
You must go to the Settlement Conference even if you have not prepared. If you have not already filed an answer, you have 30 days after the first settlement conference to do so.
—
Our Consumer & Economic Advocacy Program (CEA) of Brooklyn A represents low- and moderate-income homeowners on foreclosure prevention cases across the city. You can find our contact information on the website to seek assistance or use the contact info listed below. There are also other non-profit foreclosure prevention legal services you can contact:
New York's Homeowner Protection Program (HOPP)
Call the HOPP hotline at (855) 466-3456 or visit homeownerhelpny.com
Brooklyn Legal Services Corporation A
Consumer & Economic Advocacy Program
Call (718) 487-2300 or email [email protected]
Brooklyn Legal Services
Foreclosure Prevention Project
Call Intake Line at 718-246-3279 or email [email protected]
CAMBA Legal Services, Inc
Foreclosure Prevention Services Program
Call Intake Line at 718-940-6311 any time
Grow Brooklyn
Foreclosure Prevention
Call Intake Line at 347-682-5607 or email [email protected]
City Bar Justice Center
Homeowner Stability Project
Call Intake Line at 212-382-6766 or email [email protected]
Brooklyn Bar Association Volunteer Lawyer's Project
Foreclosure Prevention
Call Intake Line at 718-624-3894 on Monday through Thursday 10 am to 4 pm
Bronx Residential Foreclosure Center Walk in Clinic (first come first served)
Bronx Supreme Court, Room 607A
851 Grand Concourse
Bronx, NY
Tuesday through Thursday: 10 a.m. to 4 p.m.
Bronx Legal Services
Call Foreclosure Prevention Hotline at 9176614500 on Monday through Friday: 10 a.m. to 5 p.m.
Queens Foreclosure Prevention Court Clinic Walk in Clinic (first come first served)
Queens Civil Court
89-17 Sutphin Boulevard, Room 454
Jamaica, NY
Friday 9:30 a.m. to 3:15 p.m.
Queens Legal Services
Call Predatory Lending Hotline at 9176614500 on Monday through Friday: 10 a.m. to 4 p.m.
Staten Island Legal Services
Homeowner Defense Project
Call Hotline at 7182336480 on Monday through Friday: 9 a.m. to 5 p.m.